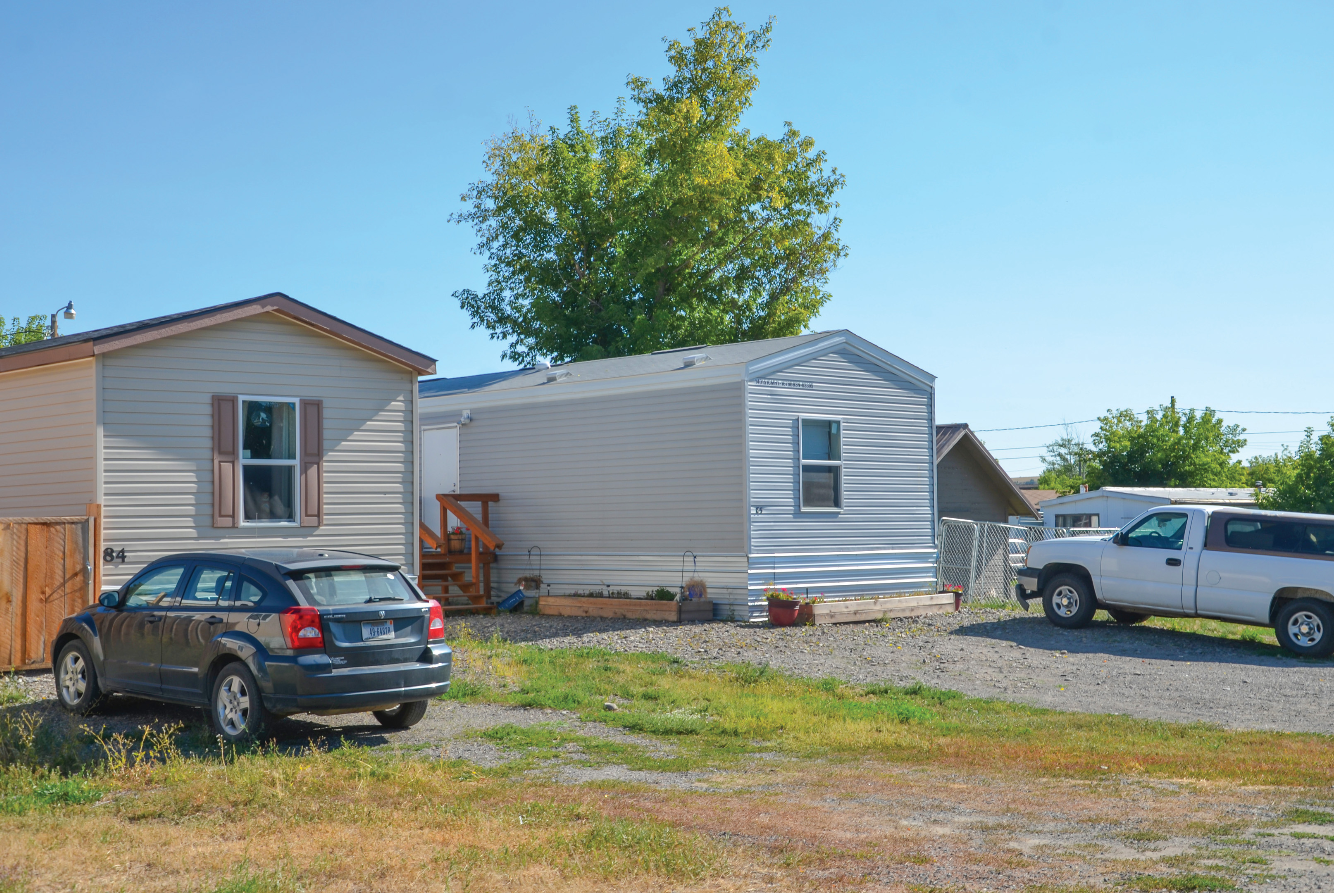 The homeowners who live in View Vista Community in Livingston, Montana, have bought the community from the previous owner, preserving 49 homes and 33 apartment units that are affordable to low-income residents. View Vista Community is now a resident owned community (ROC) – the residents now own and manage their own community.
NeighborWorks Montana guided residents through the purchase process and continues to support them as they build the skills and leadership they need to manage their community. In most manufactured-home parks, homeowners own their homes and pay lot rent to the park owner for the use of the land. In resident owned communities the lot rent goes to the resident cooperative and is managed to meet community needs and maintain affordability.
Safe and stable homes are increasingly out of reach for working and low-income families in Montana. ROCs preserve an important source of unsubsidized affordable housing for working families, seniors and people with low incomes. Owning a home in a ROC is typically half as expensive as renting an apartment.
"The residential units at View Vista Community are crucial to the workforce housing stock in Park County, providing safe housing that is affordable near the heart of Livingston," said Danielle Maiden, ROC Program Manager for NeighborWorks Montana. "This community provides both homeownership and rental opportunities to working families."
George Nikolakakos owned View Vista Community for six years. He felt the community was key to the city of Livingston with over 200 people living in the community between View Vista Community Apartments and the homes in the community. When Nikolakakos started thinking about selling, he immediately reached out to NeighborWorks Montana.
"Resident ownership is good for the community, it's good for the economy, it's good for the residents, it's good for the seller. It's just a way to feel good about closing the transaction out in a way that is ethical, and I'd like to think it's a little bit about leaving a legacy for the residents," Nikolakakos said. "I can't wait to go back to Livingston in 10 years and watch that place develop and see what they do with it."
The purchase was financed by Opportunity Bank and NeighborWorks Montana. View Vista Community is the 13th resident owned community in the state of Montana and the first in Park County. There are over 250 ROCs nationwide. NeighborWorks Montana provides the ROC program in Montana as part of the ROC USA® Network. The ROC USA® Network is made up of nine non-profit affiliates across the country. The ROC program helps to provide safe, secure and affordable housing in perpetuity, and it eliminates the risks for residents of rent increases or being evicted without cause.
NeighborWorks Montana's Mission: Together we strengthen our communities by providing education and financing that gives every Montanan the opportunity to live in a home where they can thrive.
About NeighborWorks Montana: NeighborWorks Montana is a Community Development Financial Institution (CDFI) that works with a network of statewide partners to deliver HUD-approved homebuyer education and counseling. NWMT provides home loans for individual homebuyers and financing for affordable housing developers. And, NWMT helps homeowners purchase and successfully manage mobile home parks (ROCs). There are currently 13 ROCs in the state with 527 home sites. LEARN MORE
About ROC USA: ROC USA® is a non-profit social venture scaling resident ownership of manufactured home communities since 2008. Together with ROC USA® network, a group of nine regional non-profit affiliates, and ROC USA® Capital, a CDFI lending subsidiary, we work with 250 resident owned communities in 16 states. LEARN MORE