Interested in joining our team?
Thank you for your interest in employment opportunities with NeighborWorks Montana. Look for our latest job openings and employment opportunities to be posted here. NeighborWorks Montana requires the completion of a NeighborWorks Montana Application for all job openings. Resumes will not be accepted in lieu of mandatory completion of a NeighborWorks Montana application. However, resumes may be included as an attachment to the required application. Note: Applications will only be accepted for current job openings. Please contact Mary Jo White for further information.
NeighborWorks
17 5th Street South
Great Falls, MT 59401
[email protected]
(406) 604-4540
Mailing Address: P.O. Box 1025 Great Falls, MT 59403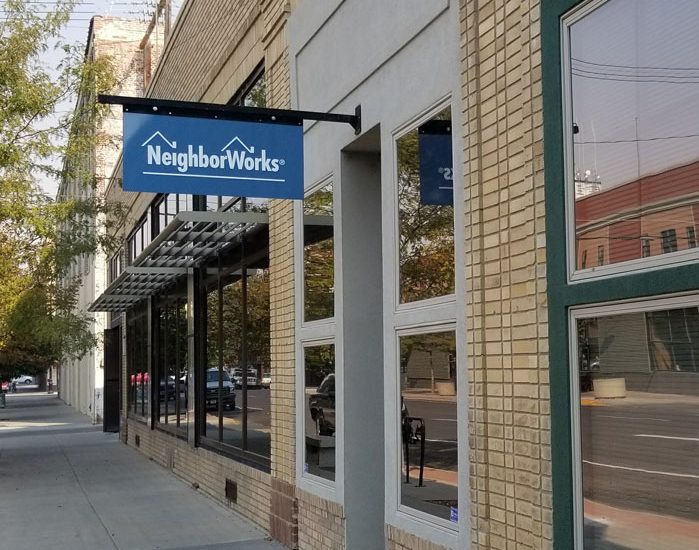 Housing Network Specialist
NeighborWorks Montana has a current opening for a Housing Network Specialist. If you love working in a team environment and are detailed oriented, please consider applying!
POSITION DESCRIPTION
Job Title: Housing Network Specialist
Position Status: Regular Full-time Permanent
FLSA Status: Non-exempt
Grade: 7
Wage: $18.45 per hour
MINIMUM QUALIFICATIONS:
Three years of experience in a professional position with like duties or Associates Degree required. Must be proficient in Microsoft Office and database management. Demonstrated experience in customer service or relations. Requires strong administrative skills with the ability to manage multiple tasks and deadlines in a fast-paced environment. Proven ability to work in a small team environment with minimal supervision. Must adhere to confidentiality policies and procedures. Must be able to communicate well in person, over the phone, and in writing. This position requires attention to detail and the ability to perform repetitive tasks. Occasional evening and weekends with minimal travel required; applicants must have a valid driver's license and vehicle insurance. Missoula office location preferred; other locations considered within Montana.
ESSENTIAL DUTIES AND RESPONSIBILITIES:
Partner Training and Support:
Serve as the primary point of contact for education and counseling services for NWMT partners and clients
Facilitate training and registration process, and travel reimbursements, for partners and staff
Arrange partner-related events both in state and as part of national trainings
Coordinate partner counselor training, orientation, and ongoing technical assistance
Coordinate online education, including managing and tracking online and virtual education and working with Administrative Assistant to coordinate counseling with network partners and clients
Program Administration and Compliance:
Support grant application, reporting, and compliance for education and counseling programs
Enter and track home purchase and client outcome data in appropriate databases
Prepare for and implement partner file and site reviews, and ongoing compliance
Maintain and update mailing lists and tracking sheets for various education and counseling functions
Coordinate and take minutes for monthly partner calls and other meetings as requested
Support program development for new and expanded programs and services
Provide support in establishing relationships with new partners
Other duties as assigned
Benefits include:
Medical
Short Term Disability
Life
401K
Dental and Vision are offered at employee's expense.
Also included:  Paid Holiday, Vacation, Sick, and Personal Leave.
Please submit your application, resume, and cover letter to Mary Jo White at [email protected] by 4/26/2021.  DOWNLOAD APPLICATION
NeighborWorks Montana is an equal opportunity employer.
Staff Accountant
NeighborWorks Montana has a current opening for a Staff Accountant. If you are a detailed-oriented team player, we would love to have you on our team!
POSITION DESCRIPTION
Job Title: Staff Accountant
Position Status: Regular Full-time Permanent
Accountable To: Chief Financial Officer
FLSA Status: Non-exempt
Grade: 10
Wage: $24.75 per hour
Minimum Qualifications: BA/BS in accounting, business, or finance. CPA preferred but not required. Minimum of five years' experience in a position with related duties. The position is in Great Falls, Montana and requires in person work in the office. This position requires high attention to detail. Responsible for reviewing, monitoring, and processing a variety of fiscal transactions. The position must be able to communicate effectively, both orally and in writing, and effectively organize and manage time. Extensive experience in Microsoft Office Suites and familiarity with accounting and client services software. Must be able to establish and maintain effective working relationships with co-workers, supervisors, funders, and board of directors and committees. Ability to take a teamwork approach to the job by cooperating with others.
Essential Duties and Responsibilities:
ACCOUNTING
Pickup mail daily from post office, process and distribute to appropriate personnel
Properly code all cash and checks received for entry into the general ledger
Monitor and track accounts receivable
Reconcile Loans Receivable from loan servicing system to general ledger monthly
Assist with the development of accounting policies and procedures
Assist with preparation of budgets, cash flows and projections
Provide grant/departmental analysis and financial documentation for grant reporting
Reconcile bank statements
Reconcile general ledger accounts as assigned by the CFO
Provide backup and support to the CFO as needed
COMPLIANCE AND GRANT REPORTING
Prepare timely and accurate reports for grants and donors
Develop and maintain policies/procedures relating to grant/donor requirements
Pull and collate lending and organizational data from various databases
Monitor compliance with grants and reporting prepared by other staff
Assist in the preparation of grant applications
Special Requirements: Ability to travel occasionally when required for job functions and training. Applicants must have a valid driver's license and insured, dependable vehicle. Please submit your application, resume, and cover letter to Mary Jo White at [email protected], or mail to PO Box 1025, Great Falls, MT 59403, Attention Mary Jo White.  All three documents are required. DOWNLOAD APPLICATION
NeighborWorks Montana is an equal opportunity employer.