Interested in joining our team?
Thank you for your interest in employment opportunities with NeighborWorks Montana. Look for our latest job openings and employment opportunities to be posted here. NeighborWorks Montana requires the completion of a NeighborWorks Montana Application for all job openings. Resumes will not be accepted in lieu of mandatory completion of a NeighborWorks Montana application. However, resumes may be included as an attachment to the required application. Note: Applications will only be accepted for current job openings.
NeighborWorks
17 5th Street South
Great Falls, MT 59401
(406) 604-4540
Mailing Address: PO Box 1025 Great Falls, MT 59403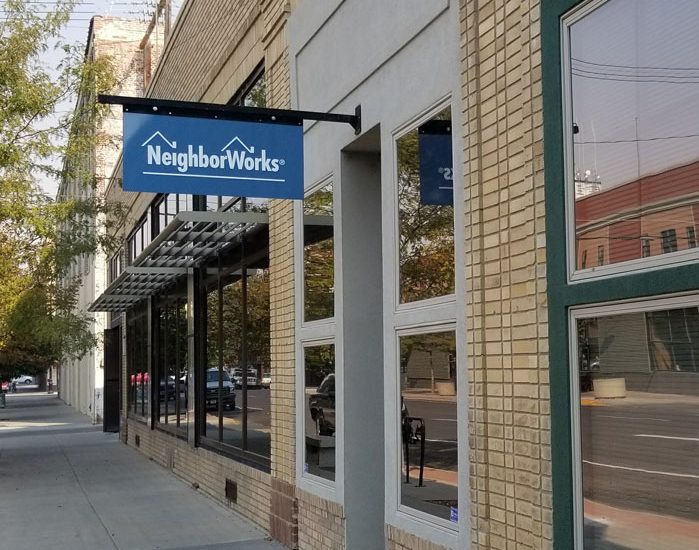 ACCOUNTING AND ADMIN SPECIALIST
NeighborWorks Montana is seeking an Accounting and Administration Specialist to join our team at the Great Falls office. This position involves tasks such as reviewing and reconciling accounts, assisting managers in the hiring process, handling inquiries related to employee policies and benefits, and meeting the administrative needs of the Great Falls office.
TO APPLY
Please submit your application, resume, and cover letter to Kaia Peterson at [email protected].  All three documents are required.
DOWNLOAD APPLICATION
NeighborWorks Montana is an equal opportunity employer.
Job Title: Accounting and Admin Specialist
Job Location: Great Falls, Montana (in office)
Position Status: Regular Full-time Permanent 32 hours per week
Accountable To: Director of Finance
FLSA Status: Non-exempt
Grade: TBD
Wage range: $19 – $24 per hour
BENEFITS
Benefits include 8 paid holidays, 2 personal days, vacation days, sick days, 80% contribution to health insurance through NWMT sponsored health insurance, $1,500 employee flex spending, and 5.00% retirement match vested over five years. Vision and dental insurance are available, paid by the employee.
Minimum Qualifications:
BA/BS in accounting, business, finance, or equivalent professional experience in a related field.
Applicant must have a minimum of two years' experience in a position with related duties.
Position must be able to communicate effectively, both orally and in writing, and effectively organize and manage time.
Extensive experience in Microsoft Office Suites and familiarity with accounting software and online banking preferred.
Must be able to establish and maintain effective working relationships with co-workers, supervisors, contractors, and vendors.
The position is in Great Falls, Montana, and requires in-person work in the office.
VIEW FULL JOB DESCRIPTION
DOWNLOAD NWMT APPLICATION
MONTANA NATIVE HOMEOWNERSHIP COALITION PROGRAM MANAGER
Since early 2022, stakeholders in Montana have been working to develop a statewide Coalition to support Native homeownership and increase the flow of mortgage financing to Native Americans across the state and from the eight tribes in Montana. Representatives of tribes, tribal housing authorities, Native community development financial institutions, lending institutions, nonprofits, and others have come together to achieve these goals.  Together, we have taken a number of important steps in laying the foundation for our Coalition, including developing a strategic plan, forming a steering committee, providing a number of trainings, and hosting convenings. NeighborWorks Montana serves as the fiscal sponsor and has created a new position to help lead, formalize, and implement the work of our growing Coalition.
JOB SUMMARY
The Native Homeownership Coalition Program Manager will be responsible for advancing the goals and strategies of the Montana Native Homeownership Coalition as the lead staff person for the Coalition. Work with the Coalition steering committee and task forces and collaborate with Coalition stakeholders and tribal leaders to remove barriers and advance opportunities for homeownership on tribal land in Montana. This position is housed within NeighborWorks Montana and is responsible both to NWMT's Homeownership Director and to the leadership of the Montana Native Homeownership Coalition and its members.
This role is for you if you…
✓   Are committed to increasing homeownership opportunities for Native families in Montana
✓   Have experience working with tribal leadership
✓   Would like to help stand up our Coalition, formalizing our efforts and implementing the priorities generated through our strategic planning process
✓   Are a self-starter, who thrives working on your own
✓   Are a bridge-builder, who can support connections between member organizations
✓   Are an experienced facilitator with strong partner relationship development
✓   Are comfortable working remotely within Montana
✓   Have strong writing and communication skills
✓   Have experience in affordable homeownership or community development
✓   Have a track record of moving ideas into action
PRIMARY RESPONSIBILITIES
Support the Coalition's Steering Committee, to include planning and facilitating regular meetings
Work with the Steering Committee to carry out strategies and programming to achieve the goals and priorities reflected in our strategic plan
Spearhead tribal leader engagement efforts to generate support for homeownership and Coalition programming
Support the Coalition's volunteer task forces, including developing and tracking committee milestones and workplans, preparing committee call minutes, and preparing monthly reports
Work with the Steering Committee to plan and conduct regular convenings of Coalition members
Support the Coalition's training events in coordination with our Education Task Force
Coordinate the implementation of our communication/marketing plan, including managing our social media platforms
Provide grants management support
QUALIFICATIONS
Experience working with tribal leadership and tribal housing and community development departments
Understanding of community development and homeownership in a Native context
Knowledge of Native homeownership markets in Montana
Excellent communication, organizational, and problem-solving skills.
Strong technology skills, including basic computer skills and the ability to use Word, Excel, PowerPoint, and social media platforms
Ability to maintain a high level of energy, initiative, and interaction with staff and community at all times
Demonstrated ability to take initiative and manage multiple projects and programs
BA/BS in business, non-profit or for-profit management, or equivalent experience plus 3-5 years of experience in a related field
LOGISTICAL INFORMATION
This is a regular full-time non-exempt position
The Program Director position will report to the Homeownership Director of NeighborWorks Montana
Evening and weekend work may be required including occasional in-state and out-of-state travel
Employee may be based anywhere in Montana
SALARY AND BENEFITS
Salary will be commensurate with experience. Salary range from $72,000 – $82,000.
Benefits include 8 paid holidays, 2 personal days, 12 vacation days, 10 sick days, 80% contribution to health insurance through NWMT sponsored health insurance, $1,500 employee flex spending, and 5.00% retirement match vested over five years
TO APPLY
Please send a cover letter, resume, and three references to Kaia Peterson, Executive Director at [email protected]