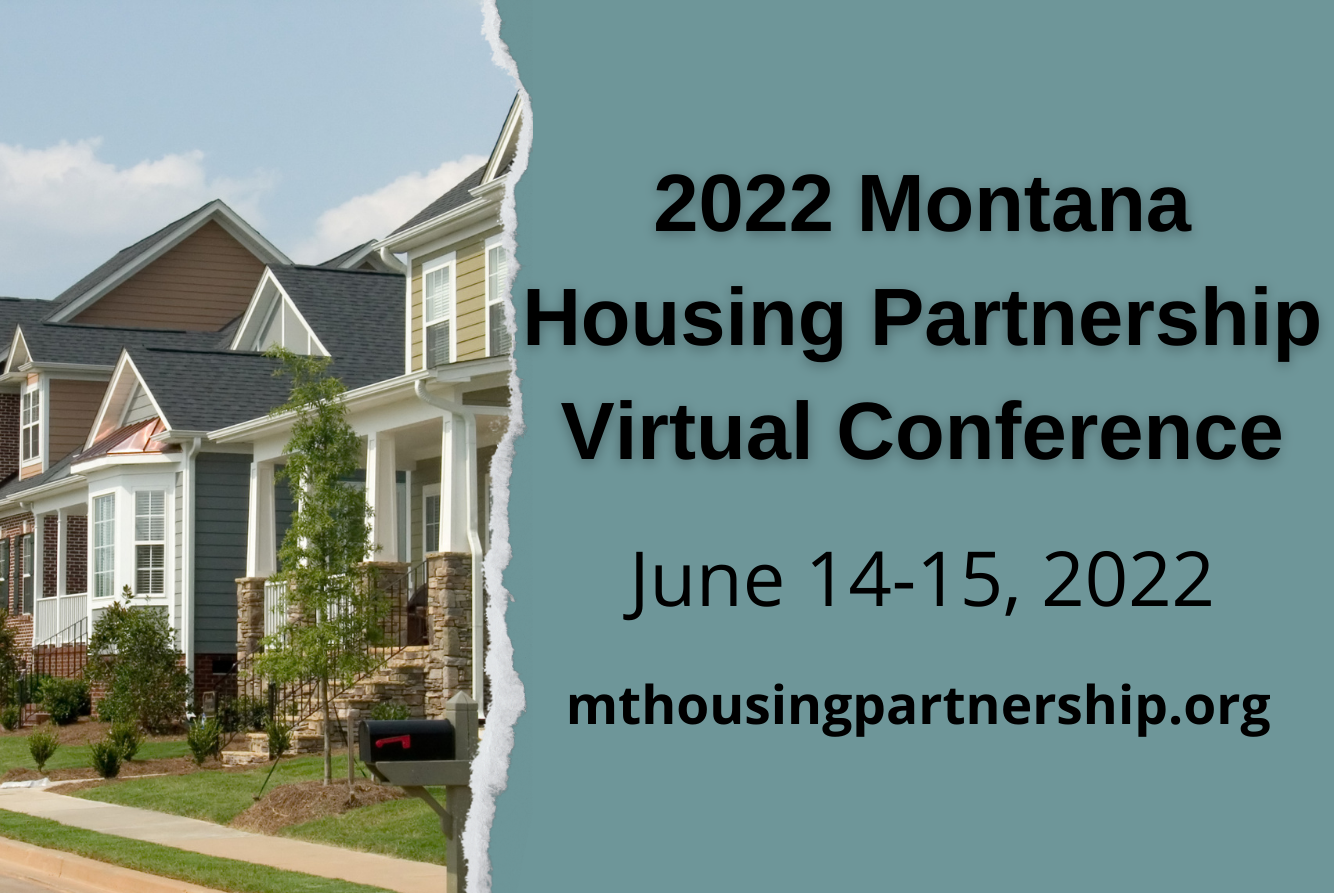 The Montana Housing Partnership invites you to get involved in the 2022 Montana Housing Partnership Conference!
Participation opportunities include:
The conference, which will be held virtually June 14-15, 2022, is a highly anticipated event for housing authorities, community development agencies, health organizations, and affordable housing developers around Montana.
The committee is excited about the opportunities a virtual event offers. This year's platform is Whova, which allows sponsors and attendees a great deal of access and amenities. Attendees will be able to interact with one another as well as with sponsors before and after the conference.
Conference registration will open March 16. Keep up with the latest news at MTHOUSINGPARTNERSHIP.ORG.
Lead a Conference Session
We're looking for a mix of session content and formats. Breakout sessions can be 60 or 90 minutes. New this year: Subject-focused Coffee Talk periods that will be 30-minute discussions. We'll weigh both the relevance and importance of the topic to our audience, as well as the format and attendee engagement approach of proposed sessions.
We plan to schedule enough breakout sessions to keep group sizes to about 65 attendees; breakouts could be smaller/larger than the targeted average. Examples of last year's sessions are here. Proposals are due March 4. Contact Katie Biggs with questions.
Become a Conference Sponsor
The conference organizers are nonprofit groups that rely on sponsorships to plan/hold the conference. Your support is vital to our ability to provide attendees with the best training and networking experience our industry can offer.
As a sponsor, you'll have a virtual, customizable exhibit space to interact with attendees. You'll also have ad space in our virtual conference program, and your logo will be displayed on banner ads throughout the conference platform. View the sponsorship menu here.
Sponsorships fill up quickly; don't delay! The sponsor deadline is May 2.  Contact Michelle Rogers with questions.