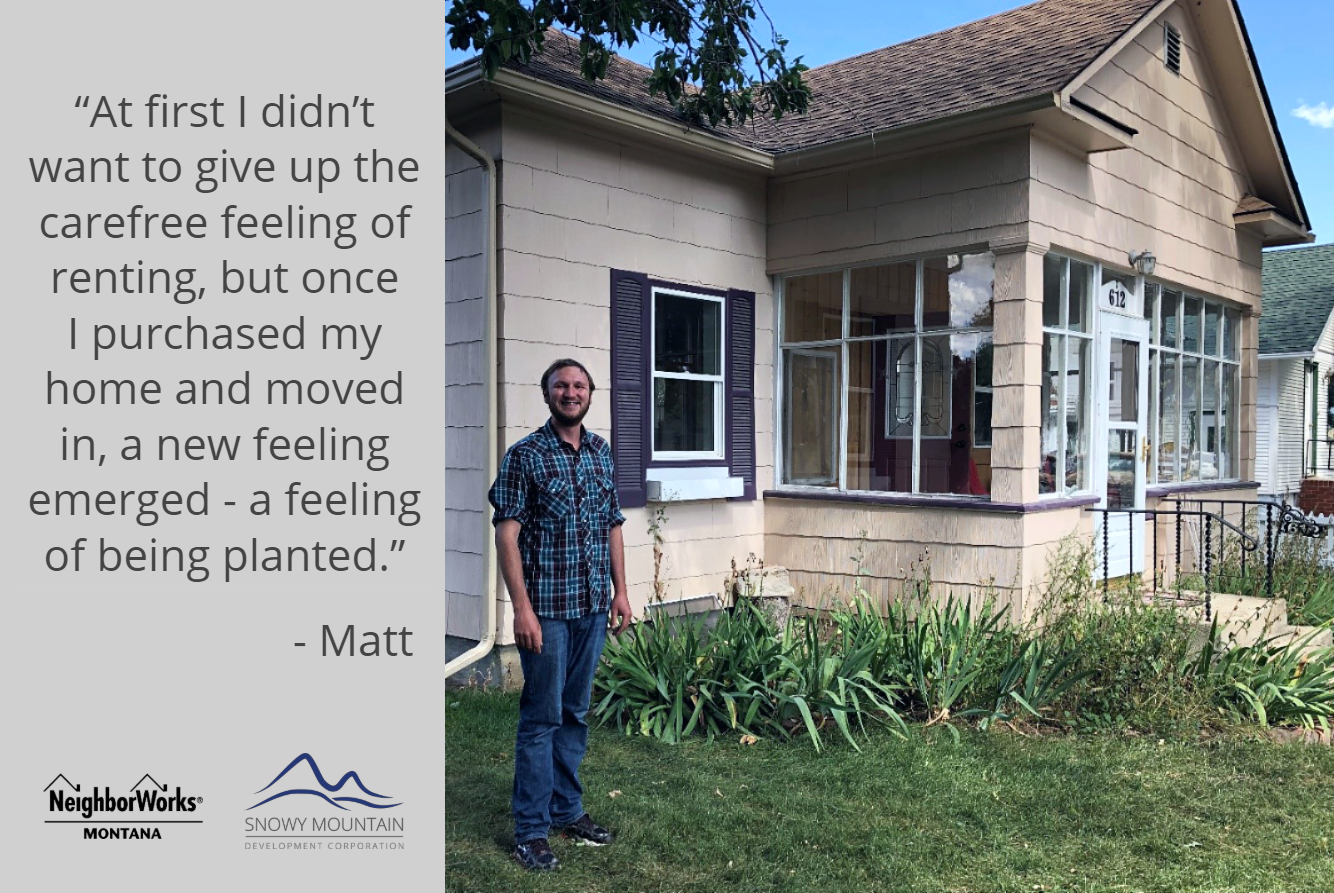 NeighborWorks Montana received this great story from Diane Pennell who works at our partner organization, Snowy Mountain Development Corporation in Lewistown. While Matt's story is not our typical story of "I took the class and wanted to be a homeowner right away," we felt it was important to share his story to show how quickly life can change. Having already taken the homebuyer education class, Matt was well-informed and prepared for his unexpected change of heart and is now very happy in his new home.
We offer Homebuyer Education to help you be a successful homeowner so you can enjoy your home and community for many years to come. The class includes information such as:
Assessing your readiness to buy a home
Budgeting and credit
Financing a home
Maintaining home finances
Selecting a home
How to maintain your home
Financial tips and resources
If you have been thinking about purchasing a home, be sure to visit https://www.nwmt.org/homeownership/ or call us at 406-604-4540 to learn more and to find a provider in your area.
After taking the First Time Homebuyer Class, Matt felt more confident that he did NOT want to buy a home. "I was averse to complicating my life with the responsibilities of homeownership and I did not see paying rent as a waste of money, I saw it as paying a fair price for a simple and relaxed lifestyle," stated Matt.  He also assumed that he would buy a run-down house that would need a lot of work and be no more comfortable than his doublewide rental house. "I saw that homes in my price range were selling overnight if they were any good, and it seemed absurd to make such a big decision so quickly, basically on impulse," added Matt. Admittedly, Matt explains, "Emotion plays a major role in my decision making, but I try to mitigate that with plenty of analysis."
But all that changed when he heard about a house for sale by owner; in this case, the seller was an acquaintance who offered an opportunity to preview the house before it was listed.  "I had more time to carefully consider the biggest purchase of my life," explained Matt. And that time along with seeing the home convinced Matt to take the plunge. He purchased the house in June of this year and could not be happier. "My quality of life improved not only overnight, but continues to improve," added Matt. The payment is hardly more than his rent, and Matt says, "This home is multiple times better than my rental situation thanks to house features including a dishwasher, basement, storage, porches, a big yard with shade trees for my dogs and a better neighborhood."
"Take the opportunity to prioritize your values in light of what you can afford and give yourself time to find the right house for you," Matt advises first-time homebuyers. In doing just that, Matt gained not only the physical and financial benefits of homeownership but says Matt, "I now appreciate the intangible benefits of feeling more invested in the community. At first, I didn't want to give up the carefree feeling of renting, but once I purchased my home and moved in, a new feeling emerged – a feeling of being planted."
Congratulations to Matt on finding his first home!