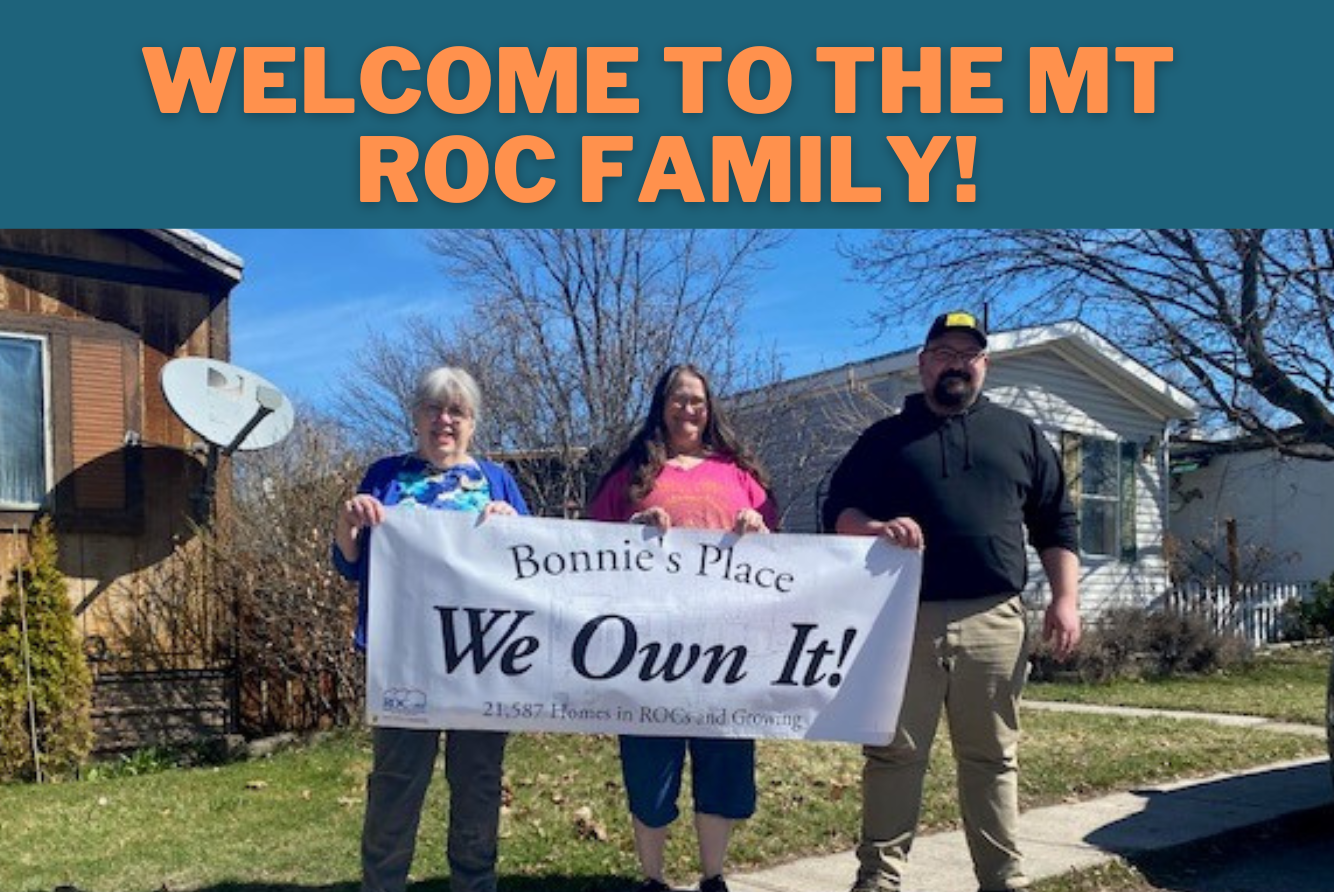 Montana now has 19 Resident Owned Communities (ROCs)!
The homeowners who live in Bonnie's Place (formerly Twen Tre) in Missoula have bought the community from the previous owner, preserving 24 homes that will remain affordable for years to come. Bonnie's Place has become a resident owned community (ROC) meaning the residents now own and manage their manufactured home park.
ROCs preserve an important source of unsubsidized affordable housing for working families, seniors, and people with lower incomes. Owning a home in a community like this is typically half as expensive as renting an apartment and owning allows homeowners an opportunity to build wealth. Now the community residents can control their lot rent and be at ease knowing that their community will not be sold out from under them.
"The experience of our purchase process was quite stressful at times, as to be expected, but the adversity that we faced during that process really brought us together as a community and galvanized development in us all as individuals as well. I know that we as a community came out feeling much more confident in our ability to self-govern effectively, especially with the support of Neighborworks as our partner. We are all excited to begin the process of improving our community, and to transform Bonnie's Place from just 'housing' to a place we can all call 'Home.'" said Brian Lease, Bonnie's Place Board President
NeighborWorks Montana guided the residents through the purchase process and will continue to support them as they build the skills and leadership they need to manage their community. In most manufactured-home parks, homeowners own their homes and pay lot rent to the park owner for the use of the land. In resident owned communities the lot rent goes to the resident cooperative and is managed to meet community needs, maintain affordability, and foster a sense of unity amongst the residents.
Special thanks for this community's success goes to the City of Missoula and its Community Planning, Development & Innovation Department and the Montana Department of Commerce. Through their support, the community received $1 million in affordable financing and grants as part of the financing for the acquisition. These funds helped make the purchase possible and kept the cost of lot rent affordable for the residents.
Bonnie's Place is the 19th resident owned community in the state of Montana, with a total of 720 homes preserved across the state. There are more than 305 ROCs in 21 states across the nation. NeighborWorks Montana provides the ROC program in Montana as part of the ROC USA® Network. The ROC USA® Network is made up of twelve non-profit affiliates across the country. The ROC program helps to provide safe, secure, and affordable housing in perpetuity, and it eliminates the risks for residents of rent increases or being evicted without cause.