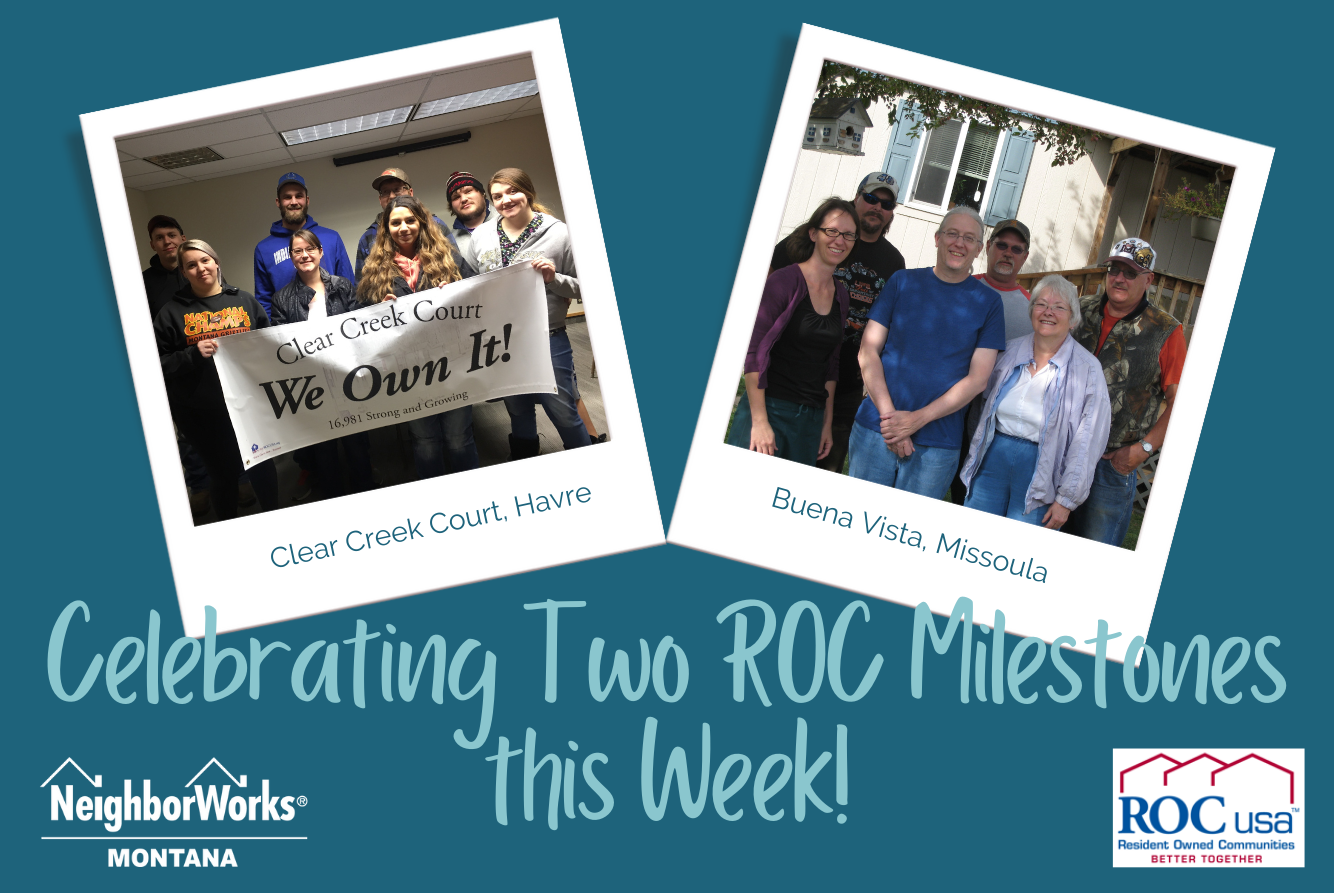 We are rounding out the end of November extra thankful for the Montana Resident Owned Community (ROC) program! Two ROCs are celebrating anniversaries this week: Clear Creek Court in Havre and Buena Vista in Missoula.
Clear Creek Court Community, Inc.
Clear Creek Court in Havre celebrates their second year as a Resident Owned Community on November 25th!
Since becoming resident owned the community has done a stellar job navigating resident ownership, and has made some great improvements to their community! Over the last two years there has been repairs made to a failing retaining wall and removal of hazardous trees. Additionally, improvements to a garage/shop-converting it to a community center and meeting space-have been completed, including a beautiful metal roof. Some plans for meetings and events have had to be postponed over the last year and half, but hopefully in 2022 the community center will house some fun resident events. Clear Creek also welcomed a property manager in early 2021, Virtue PM LLC, who has been wonderful to work with!
We are hopeful that the community will be awarded grant funds to enable them to begin work on their sewer system, which will be a wonderful improvement for the residents. NeighborWorks Montana will continue with guidance for the community going forward and we look forward to seeing what more they accomplish!
Buena Vista Community, Inc.
Buena Vista in Missoula celebrates their eighth year as a Resident Owned Community on November 27th!
Since becoming resident owned, Buena Vista has not only become a successful business, but also a thriving neighborhood where the residents work together on every aspect of where they live. The process of the cooperative buying the land beneath our homes brought this community closer together.
Over the years they have worked hard to improve their community, including road improvements, landscaping improvements, establishing a neighborhood watch program, and getting the park connected to the city sewer system. Buena Vista is excited for what 2022 will bring, including a potential expansion that could bring several new households into the community.