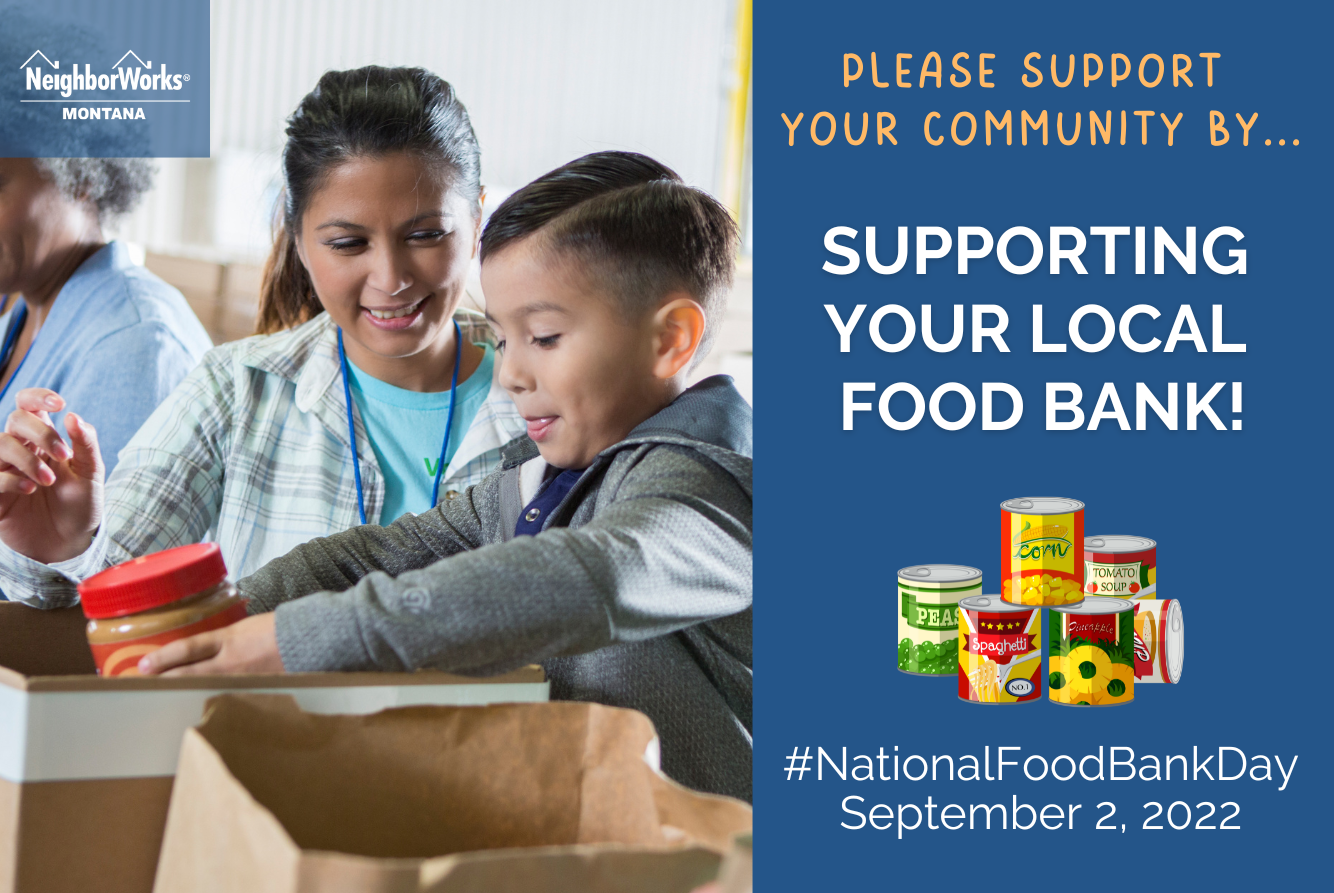 Friday, September 2nd is National Food Bank Day and we are taking this opportunity to remind you that when you support your local food bank, you make a difference in your community!
The need for support is always great with our food banks, but with the current economy, the need is immense. We at NeighborWorks Montana encourage you to take action whether you:
Donate non-perishable food items
Organize a food drive
Give a monetary donation
Volunteer – there are often jobs to suit any age and/or ability
Share their posts on Facebook and/or other social media platforms
Many food banks/pantries have websites and/or Facebook pages, but if you aren't sure how to connect with them you can usually find them through:
Montana 2-1-1 is a great resource for services in your area! Visit montan211.org and click Food to find food banks and pantries in your area, but be sure to look around at all the great information that is available at your fingertips.
Many local banks are also part of the Montana Food Bank Network, so you can visit mfbn.org/partner-agencies/ to find contact information. The Montana Food Bank Network is another great way to support local food banks, so be sure to check out their entire website for ways to give and their latest news.
Feeding America has a nice food bank search tool – feedingamerica.org/find-your-local-foodbank.
A Google search for "food banks in my area".
WHAT SHOULD I DONATE?
Peanut butter
Canned soups
Canned fruit/vegetables
Canned stew
Canned fish or chicken
Canned beans
Pasta
Rice
ITEMS TO AVOID
Anything that requires refrigeration
Food that is beyond the expiration date
Home canned or homemade items
Food in damaged packaging
Baked goods
National Food Bank Day is a great opportunity to raise awareness, but please keep in mind that help is needed year-round.
Strong Montana communities depend on all of us doing our part when we are able!
#NationalFoodBankDay