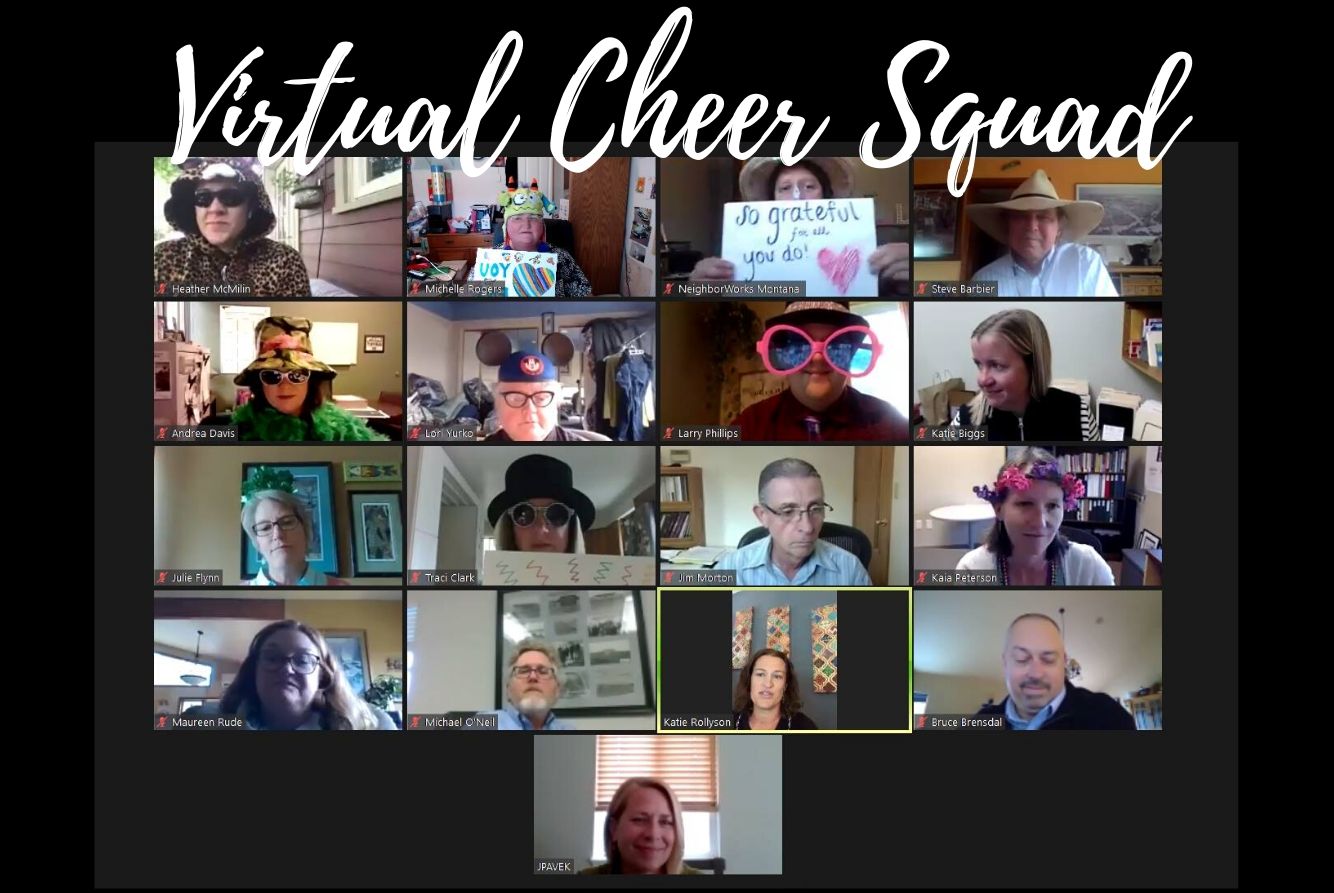 This year's housing conference looked a bit different, but the spirit remained the same. Montana Housing Partnership is grateful to everyone who helped make the conference such a great experience!
Throughout the day we focused on four main areas: Federal and State Responses, Housing and Healthcare, Housing Development, and Client Services. Each panel talked about the housing landscape, both pre and post COVID-19. Conference MC and Executive Director of NeighborWorks Montana, Kaia Peterson, gave final reflections, "Health, housing, and food security continue to be this trifecta that so many of our clients and communities are challenged with. Seeing meaningful and deep collaboration across these sectors is really encouraging to me."
The conference concluded with awards and a cheer squad (pictured above). Awards given out included:
Legislator of the Year awards to both Representative Tom Welch of Dillion and Representative Dave Fern of Whitefish for their work and commitment to to get House Bill 16 passed in the 2019 legislative session. House Bill 16 resulted in the Multifamily Coal Trust Funds program, which made $15 million dollars available for the development and preservation of affordable rental homes.
Lifetime Achievement Award given to Maureen Rude. Maureen recently retired after spending over 30 years dedicated to creating safe and stable homes for Montanans. Her determination and dedication are an inspiration to her colleagues.
LIFT Top Producing Lender awards were presented to Kari Francisco of First Security Bank in Bozeman, Nicole Hanni of Wells Fargo in Butte, and Mason Walker of Opportunity Bank in Great Falls for for their commitment to the NeighborhoodLIFT program.
Montana Housing Champion of the Year was presented to Wells Fargo for the resources and support they have brought to homeownership, and to so many housing organizations across the state.
NWMT Lender of the Year award was presented to Carol Holman of Stockman Bank in Hamilton.
Please visit mthousingpartnership.org for all the conference recordings and resources shared during our time together.
SAVE THE DATE!
Next year's annual Montana Housing Partnership Conference will held be May 17-19, 2021 in Helena.