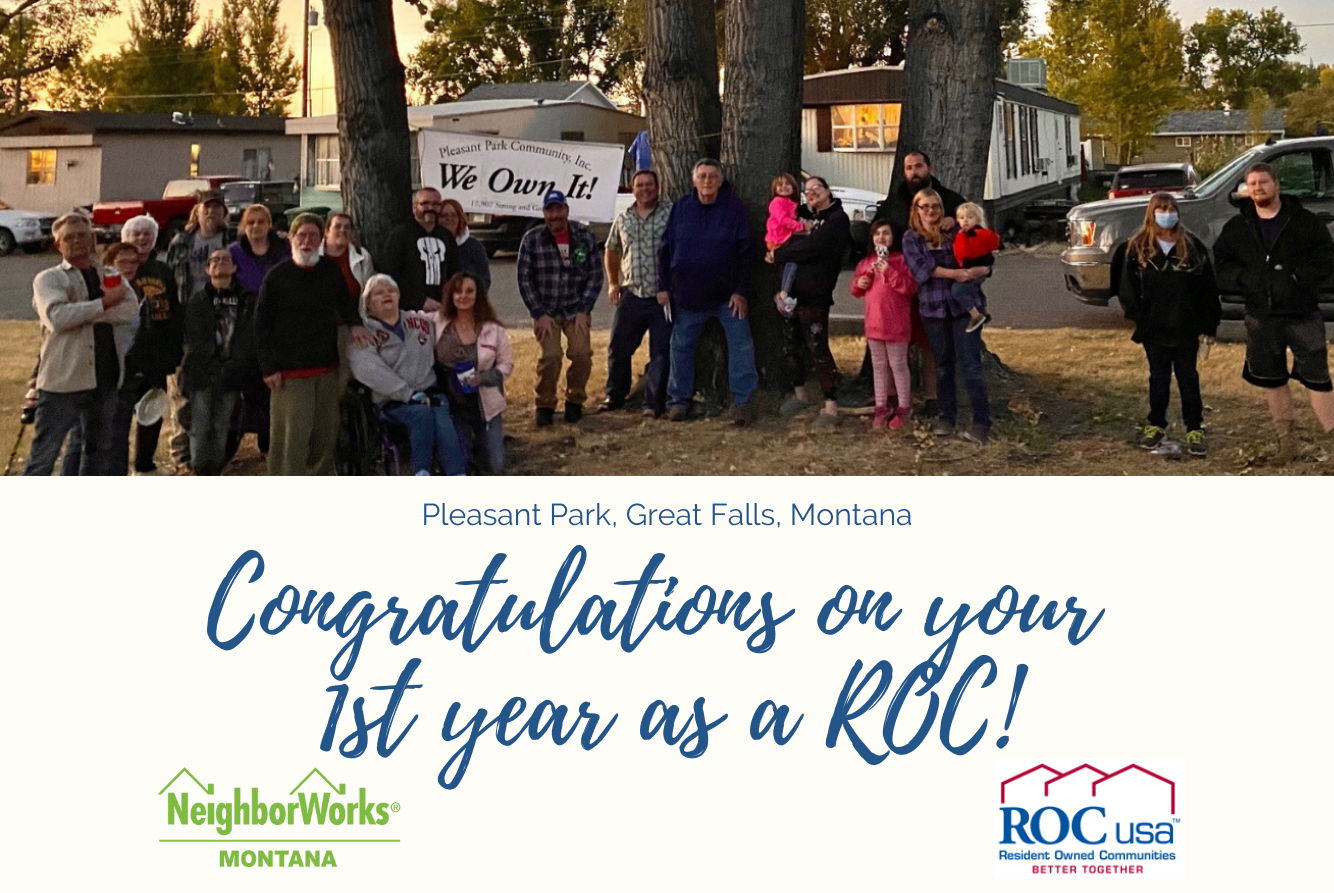 Pleasant Park Community, Inc. in Great Falls is celebrating its 1-Year Anniversary of becoming a Resident Owned Community today, September 2!
The first year is typically a busy time for a new ROC, but the residents of Pleasant Park Community have especially hit the ground running, making great progress and plans for future projects!
The community board members and residents got right to work on planning community improvements and have others already checked off their list. A major project was completed this spring to correct drainage issues at the community entrance, which will alleviate pooling water and snow collection. The freshly paved entryway looks wonderful, and the community installed speed bumps, as well.
The community members, in partnership with their property manager NeighborWorks Great Falls, held a Community Clean-Up Event in May, wrapping it up with pizza, a membership meeting, and a visit from local artist Brian Morger. Brian worked with the board members and residents to brainstorm a vision for a new community sign, which is currently in the works.
The residents stay updated on events and notices through a private community Facebook page that is maintained by their board vice president. Community businesses like Lickity-Split Ice cream truck and Big Sky Baptist Church have participated in events for the residents as well. Lickity-Split placed Pleasant Park on their rotation over the summer, and Big Sky Baptist put on a Backyard Kids Club and Family Block Party in July.
"We have made a lot of improvements to our community within this first year. We have a newly paved entryway for starters. Our residents have been adding and maintaining landscaping for eye appeal. We have a new sign on its way too. We are developing a community message center for sharing important news and updates and for promoting the services of our residents. Future projects include building a playground for the kids of the park to safely enjoy." Doug McElroy, Community Vice President
NeighborWorks Montana will continue with guidance for the community going forward and we look forward to seeing what more they accomplish!