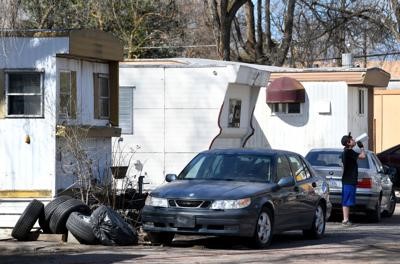 The Skyview Trailer Park in Missoula was demolished this summer. An affordable housing project proposed for the site was denied federal tax credits by the state Board of Housing.  KURT WILSON, Missoulian file photo

by DAVID ERICKSON 

[email protected]
Nov 28, 2018. Updated Dec 1, 2018


A Missoula affordable housing developer says he's "extremely shocked and disappointed" after the Montana Board of Housing denied his request for federal tax credits, putting the project on hold at least another year or longer.
The Missoula project, called Skyview, would have provided 102 units for seniors with limited incomes and needed $7.6 million in tax credits to move forward. Last week, the Board of Housing denied the request and instead chose other projects around the state, including approving $8 million for a 50-unit project in Billings.
"They funded a project that is half as many units for the same number of dollars, actually more dollars," said developer Alex Burkhalter of Housing Solutions in Missoula. "Stuff like that makes it hard to swallow. We'd have been able to deliver twice the units for less money."
His project would have been built on a parcel of land in Missoula's Westside neighborhood which was recently occupied by Skyview Trailer Park until the tenants were evicted and the site razed.
On Nov. 19, the Board of Housing approved a total of $30.6 million in tax credits for projects in Havre, Helena, Billings, Ronan, and Whitefish while denying four projects, including Burkhalter's proposal.
Because of Missoula's significant need for affordable housing and because Burkhalter believed his financing provided more "bang for the buck" than other proposals, he was confident going into the meeting that his application would be approved.
"It's really hard to understand what happened," Burkhalter said. "Even some of my peer developers, those who were and weren't successful, expressed shock. We all believed Missoula was a sure thing."
Bruce Brensdal, the executive director of Montana Board of Housing, said he couldn't speak to the particular reasoning made by each member of the board, of which he isn't a part.
"We had 17 projects that came to us at the beginning of this round and many different communities have extreme housing needs like Missoula," he said. "I'm not discounting the needs of Missoula at all, but as the board works through this process and makes choices on the projects that did get funded, unfortunately Missoula fell below the funding level."
Bender said he and the board, ideally, would like to fund all the projects that applied.
"If we had more money, quite frankly, we'd have funded all 17 as far as I'm concerned," he said. "It wasn't, in my mind listening to the process, Missoula against Billings. All of these communities have such a great need and that's where the line got drawn."
Brensdal said the board considers a variety of factors when assessing projects, such as how often certain communities have been awarded money in the past. According to data from the Board of Housing, Missoula County has received 13 percent of all funding in the last decade compared to 9 percent of all funding for Yellowstone County. Cascade County has received the most, at 19 percent, while Gallatin has received 9 percent and Flathead has received 8 percent.
Burkhalter said Billings projects have been awarded tax credits for the past three years in a row.
"Part of the reason why we thought we'd be successful is because Billings had awards the last three years," Burkhalter said. "We're extremely shocked and disappointed. I'm not sure of the board's reasoning. They said the need is great everywhere."
Burkhalter said he's still in discussions with the Skyview landowner about purchasing the land, but the purchase agreement they had in place was contingent on getting the tax credits. Burkhalter's not sure whether the affordable housing complex can move forward or not.
"We still think there's a huge need in Missoula and we'd like to continue to try," he said. "We're just not sure what the priority of the board is, or if Missoula needs to wait until the ratios (of which county has received more tax credits) are more in line. I just don't know."
Missoula's housing prices have risen nearly 40 percent since 2010and are on pace to see the largest annual spike this year, while wages have stagnated. According to the University of Montana's Bureau of Business and Economic Research, the ratio of Missoula's housing prices to median household income is higher than places like Denver, Portland, Miami and Seattle. Missoula also has the highest percentage of people, 32 percent, who spend more than 30 percent of their income on their mortgage.
Source: https://missoulian.com