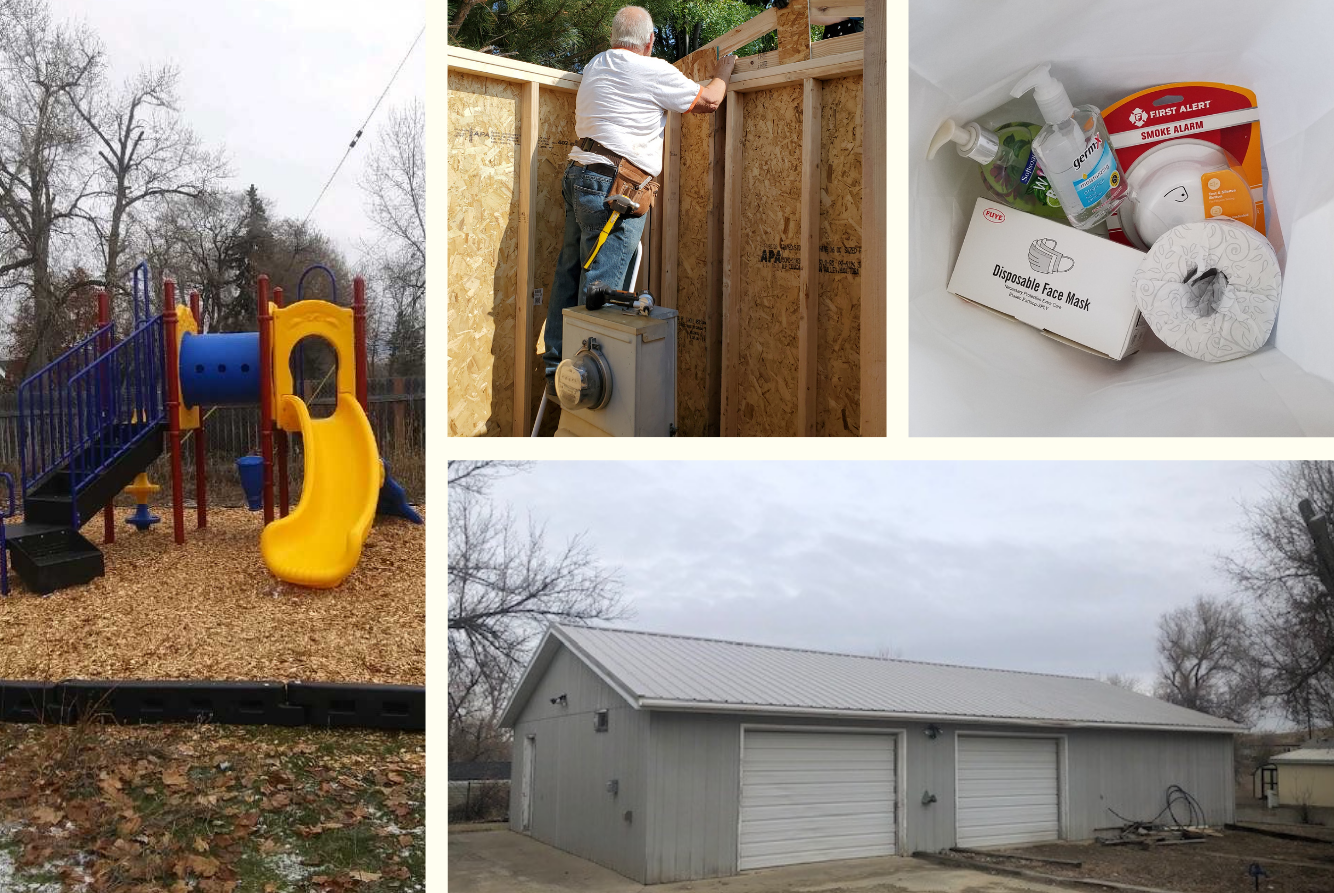 Montana Resident Owned Communities (ROCs) received a combined $243,099 through state and private grants to support community needs and provide stability in response to the impacts of COVID-19.
What is a ROC?
A ROC is a manufactured housing community that has been purchased by the residents with the help of NeighborWorks Montana, which is a certified technical provider for ROC USA. Resident ownership provides residents with rent stability, control over maintenance and repairs, and permanently affordable housing.
There are currently 14 ROCs in Montana, representing 577 homes which have been preserved as homes that Montanans can afford. Learn more about the current ROCs in Montana at nwmt.org/manufactured-housing/current-rocs.
Buena Vista, Missoula
They purchased a zero-turn high efficiency lawn mower, gave $200 gift cards for all households, and purchased new commercial signs for the park entrance and commercial building.
C&C Community, Billings
Removal of abandoned home in the community to clean up lot for new resident to bring a home into the community. Food and drinks for volunteers working on well pump house repairs. New irrigation pump and repairs to pump house in the community. Office materials for the community to enable them to send out information and continue organizational business without meeting in person. Gift bags for residents in the community consisting of COVID response items such as hand sanitizer, masks, and gift cards.
Crossroads Cooperative, Great Falls
Using funds to stabilize operations during the COVID-19 pandemic. Purchase of a new plow truck to allow volunteers to perform plowing in the community and keep operational expenses low. They also purchased a trailer to assist residents in removing trash from their yards. In addition to these purchases the community also had four speed limit/community rules signs designed and installed; had two concrete picnic tables placed in their playground area; refurbished their playground parking area and had parking blocks installed; had a planter designed and installed; purchased a printer and office supplies for the board; gave ACE gift cards to the residents; and purchased gravel to improve the entrance to the community.
Green Acres, Kalispell
The community was able to use grant funds to winter service all household furnaces, ensuring the residents have properly functioning furnaces throughout the winter. They also installed new lighting in the community for safety, installed new house numbers on homes so EMS services can locate homes quickly, had stairways evaluated and repaired for safety in the community, a new ballot box was installed for effective elections without contact during covid19 and all households received $200 gift cards to help them through the pandemic.
Libby Creek, Libby
Libby Creek was able to fully renovate their rental studio cabin that needed substantial renovations. The cabin has been completed and rented to help stabilize operations in the community.
Missouri Meadows, Great Falls
The community installed three new elevated lot foundations in their community to prepare for infill of vacant lots, providing more safe and affordable housing opportunities in the City of Great Falls.
Morning Star, Kalispell
The community provided direct cash benefits to the households in their community to allow them to use the funds to make needed preparations for covid19. The Board Members now have laptops and printers and copiers that will allow the organization to do business without contact during the pandemic. Improvements funded in the community include new fencing for safety in the community along the roadway, added parking pads for those spending more time in the community due to covid19, repairing of the roadway and improvements to the community message boards and mailboxes.
Mountain Springs Villa, Red Lodge
The community used their grant funds to provide each resident household with a $125 gift card, purchased a laptop for their board, purchased an outdoor message board, and rented a dumpster for a community clean up. Additionally, sidewalk repairs will be completed, making it possible for residents to walk/ride bicycles safely around the community.
Northwood, Pablo
The community is working to continue renovate an abandoned manufactured home so it can be used as a community center. The community center will offer access to a computer with internet, printer/scanner, as well as provide Wi-Fi for personal devices. There are two new covered bulletin boards installed in the community to help the organization share contactless information easily to membership.
River Acres, Missoula
The community was able to purchase laptops for board members to hold board meetings virtually and conduct business without meeting in person. They also installed a playground in the community for the children who are spending much more time at home and in the community due to covid19 restrictions. The install also included a recreational space for all residents to have the ability to spend more time outdoors and near home during the pandemic. 
Clear Creek, Havre
The community paired their COVID funds from the Better Together Grant from ROC USA to install a metal roof on their community center. The remaining funds were used to stabilize operations.
Country Court, Kalispell
The community purchased and installed new playground equipment for the community's children who are spending more time at home and in the community due to covid19 restrictions.
View Vista, Livingston
The community used funds to restore a storage area in the community and turn into a community center.